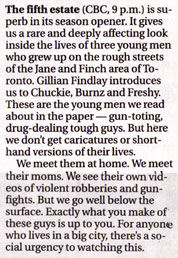 Globe and Mail review
"LOST IN THE STRUGGLE"
For almost a year, three young men who grew up on the rough streets of the Jane and Finch area of Toronto, gave Gillian Findlay and the fifth estate unprecedented access to the complexities that make up their neighbourhood and their world.
For these three friends--Chuckie, Burnz and Freshy--the Jane and Finch area is a tough world to navigate, an even tougher one to escape. It is a story that will resonate in cities across the country.
To get the access needed to tell this story, producers enlisted two young filmmakers. Paul Nguyen and Mark Simms grew up in Toronto's Jane and Finch neighbourhood, an area that has waged a decades-long battle against a reputation for violence and hopelessness. The fifth estate, together with Simms and Nguyen as film crew, spent 10 months following Chuckie's, Burnz' and Freshy's lives, from their criminal exploits and encounters with the justice system to their relationships with family, friends, and each other.