The Family Business:
Sticky Green & Shea Marie Interview
Jane-Finch.com Excusive
Conducted by Mikey Thomas on March 28, 2011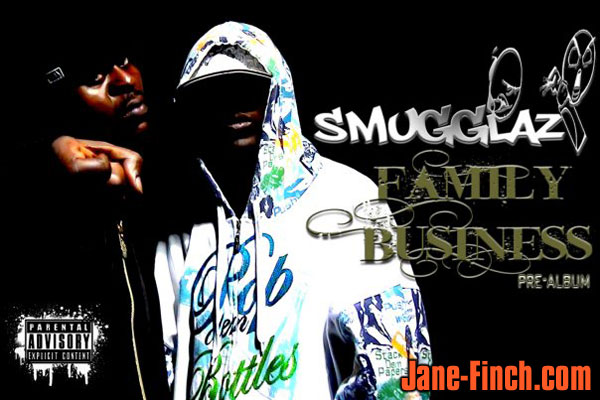 Sticky Green is mostly famous for being a part of what many consider as the Foundation for street rappers with street life rap (Street Trouble Reveal Erratic Emotions Through Living In &*&$#. Environments Rhymes Are Potent.) in Canada called The Smugglaz (Street Majesty Universal Ghetto Government Living Allegories Zeugma).
As a teenager Sticky Green along with his real life cousin Benny Blacc entered Toronto rap scene at the beginning of the millennium with the classic "Street Rapper" single/video which garnered mainstream press and national exposure that was previously unheard of for Jane-Finch hardcore rap.
In the year 2001, the duo was featured on CBC National News' award winning prime time news program The National. The documentary created a discussion in the media about street life and street rappers in terms of their cultural impact and their effect on society. The program included guest appearances by legendary pioneering hip hop artist Doug E. Fresh and Juno Award winning artist Infinite from Canadian pioneer rap group Ghetto Concept.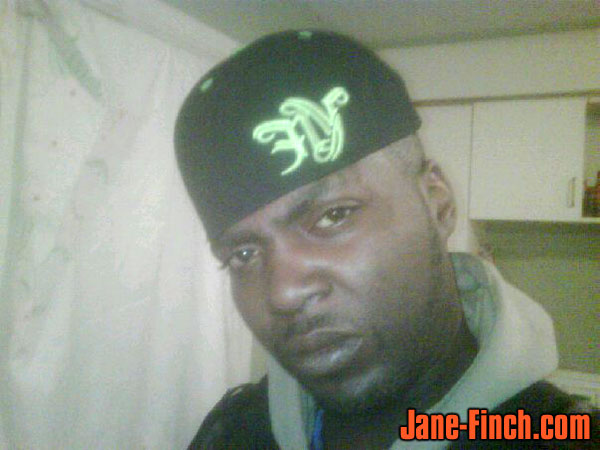 The founding members of the movement returned from a brief hiatus in 2004-2005 with the song 45th Dumpin which again garnered underground buzz as it became one of the original diss songs in Toronto history on a mainstream level against other prominent artists at the time. The group would end up touring to other cities in Canada after being signed to one of Canada's premiere talent agencies led by Chris Mckee in 2006. The tandem has shared the same stage as legendary rap groups such as Naughty By Nature and Mobb Deep.
In 2008, The Smugglaz licensed their single "Jane & Finchin" for the Paramount Vantage/MTV Films "How She Move" movie (available on itunes). The movie was loosely based on Jane-Finch although it was later altered by the movie production powerhouse to be about Brooklyn, New York, so that it would supposedly be more adaptable for American audiences.
Jane & Finchin was a song created by the group as the anthem for the neighbourhood in the year 2005 in what was dubbed by the media as the summer of the gun. That same year the group was also documented by The Toronto Sun in a newspaper cover story in September with a cover story in one of Toronto and Canada's biggest newsprint media The Toronto Sun entitled "Life and Death in Jane-Finch: Local Voices of Hip Hop".
Long time Toronto hip hop historian Mikey Thomas sat down with Sticky Green to ask him about the legacy of the group, Toronto urban music, how the street life and music scene intermingle with each other, and what is in store for the future.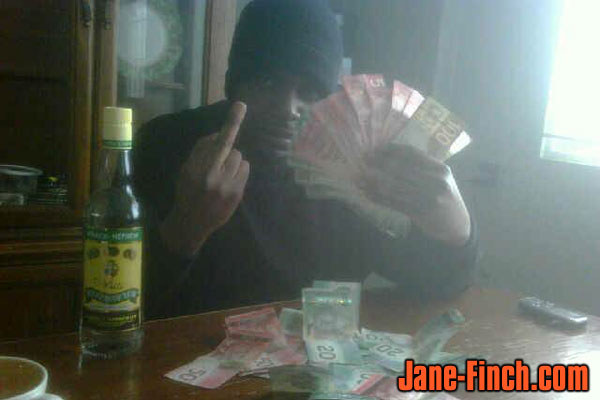 Questions
Mikey Thomas
:
Well I guess we can start right from the beginning of how this whole thing started.
Sticky Green:
Yeah let's start from the "Foundation" of all of this I guess. Well, I always was into music before anything else and always heard it in my household as my father was a calypso/soca singer. He actually was nominated in 1983 for Soca song of the year and I believe it was one of the early awards that were added to the award show for urban music in Canada.
We would always have parties over the weekend and have music blasting out into the neighbourhood in Chalkfarm as that is where I lived before moving to Jane-Finch although I was even in Jane-Finch during those times as I use to visit my cousin Benny Blacc all the time.
Mikey Thomas:
So is that where the two of started to become a group?
Sticky Green:
Actually no. When I use to visit him during those times it wasn't about the music. It was just about doing things normal kids do like running around goofing off in the neighbourhood. His father had a basement studio and we would just play all types of music and chill late at nights during those summer break months and weekends at different time periods.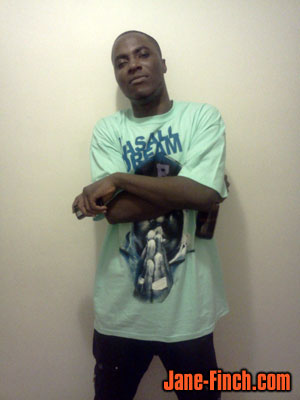 Mikey Thomas:
So, where and when did you start rapping?
Sticky Green:
I actually didn't tell my cousin I rapped. I use to rap with my friends from around the neighbourhood and other places, while I lived in Chalkfarm. Guys like Kwesro (Rohan Whittingham) of Nefarious I would see and try to emulate as he was one of the first Toronto guys I actually saw that could freestyle off the top of his head for long period of times where it made sense and entertained me. He was older of course, but he was an early inspiration. I later rapped in a group called Black Plague which included guys like Mayhem Morearty.
It was a couple of years after that I say when I was around like 14 I began rapping with my cousin. I was in ciphers in Jane-Finch one time and just felt I could do as Kwesro and jumped in rapping surprising some of the older heads up in Finch. I remember one of my first shows ever in Scarborough with Benny Blacc had Ghetto Concept and K-OS on the bill and I was nervous. After I performed I clearly remember Infinite telling me to continue rapping because I get older he could see the potential with more experience with life and performance.
Mikey Thomas:
So when did the Smugglaz become a group?
Sticky Green:
I would have to say it was around the time "GR81" died in Benny Blacc's basement. I remember us staying in the basement studio and just playing music to ease the pain and we just said we should start rapping together. I guess that's where the "family business" started. His father was also heavy into music doing reggae records and I always heard from my father how back in the West Indies he would perform on stage with guys like Chubbie Checker and so on back in the day.
I would also like to say R.I.P. to our first producer Steve who passed away a few months ago. He showed us a lot of things and I'll always be grateful for him taking me aside as a hard head teenager to show me the difference in being a rap artist and being a person who just raps. I say it was around 1995-1996 where we really started to get serious or as serious as a kid just entering High School can be and do real studio work with before meeting up with Apple and Top Secret Records. We would eventually get signed to Alchemy Records which use to be located downtown on lakeshore where The Toronto Star building is now located I believe.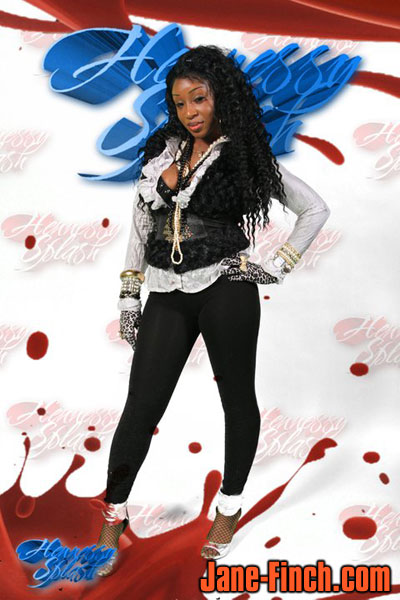 Mikey Thomas:
What would you say was the difference in the rap game in Toronto back then and now and are there any similarities?
Sticky Green:
Well the first big difference is what I referred to earlier which was studio time. Today it is a lot easier to make music as late as perhaps around 2002 in Toronto you had to pay for studio time or someone had to pay the studio time for artists to make the music. That somewhat weeded out who was serious and who was not as time is money as they say. Even as a 14 year old I was trained to know that studio time is precious although I have worked with one of Canada's best producers in Fonz for Dramatic Tracks and some see that as an advantage from jump.
Another difference is music videos. It was a much bigger deal around 2000 when a video was done. It was like a community event which now it isn't exactly that anymore because of how technology made it easier for people to create quality videos. We never really seen too many of us in the neighbourhood on television in that time frame, so when a video was being shot the whole community would come out knowing it was a chance to see themselves on MuchMusic. The standards were much more strict then as well as for content and quality.
A similarity I see today is how the scene although bigger is still pushed to the underground for the most part. Rapcity has been brought back which is great, but then we lose some college radio on the other hand. It kind of balances itself out in terms of lack of exposure which breeds the crabs in a bucket mentality on the scene as only a few really get the spots where the masses can see them. Although things like MuchVibe are around which is also great, but then we don't have things such as X-Tendamix on Saturday Nights and Soul in the City for those who love R and B/Soul. It makes us lose out on that timeless music.
Mikey Thomas:
CBC National News documented your debut single as The Smugglaz called "Streeet Rappers". To some people in the media they believed the documentary portrayed Jane-Finch and The Smugglaz in a bad light. For the first time ever can you speak about your true feelings on the time frame and the media who covered the song?
Sticky Green:
Yeah sure, I say it was a blessing and a curse at the same time. This is show business and I've always knew that even though the type of music we did the show business aspect had to be kept real as possible which was the attraction to our music. Certain things I did in that documentary if I didn't do there would perhaps be no documentary because that outlet wanted dramatic and traumatic situations to increase their ratings in prime time. They saw and heard of me through the newspapers the two times I got shot and knew I was apart of The Smugglaz rap crew. They saw a great opportunity to try to do an expose of the streets, while at the same time knowing they could hit the important youth hip hop market for the CBC to increase viewership and the demographics for that program and channel.
CBC National News wanted to show how we were making things negative for the communities with the impact our songs were having on the streets. The fact of the matter was we were just illustrating in stories what life in some of these neighbourhoods were really seeing on a day to day basis. It was ugly to them and not believable to some people which I think our lifestyle pretty much covered the credibility aspect that other rappers at the time were shying away from.
We knew the formula of how to have the safe personality to not scare away the non hip hop fans who would not understand the story telling in the music. The guys who came before us such as The Dream Warriors were excellent at doing the opposite of what we were trying to do. Ghetto Concept was another pioneering group we learned from, but I knew at the time it was a bit too gutter for Toronto. At the same time I knew and our team knew that would be the appeal because it was different and thinking outside the box. We just amped the urban life in Toronto more than our predecessors did and it was a gamble no doubt.
Mikey Thomas:
Do you feel that approach hurt you more than helped you in the music scene?
Sticky Green:
In hindsight no, but at the time yeah some industry executives in real high places told us in meetings we had hot music that they knew the block was feeling, but they didn't want to "touch it with a 10 foot pole" because of the content of the music. They felt the media and sponsors behind them would boycott us. I say hindsight because eventually our kind of rap became all the rage across the border when 50 Cent hit the scene and Toronto underground started to bubble up with our style of rap in 2004. We went through a few problems and wasn't out until that year where we came back on the scene with the song 45TH Dumpin which was all about going after the media and those who embraced it.
Mikey Thomas:
Yes, that song is what many consider a Foundation for rap battles in the city on a high mainstream level as it included verbal trash talk against the likes of guys like Kardinal Offishall, Saukrates, and Choclair of The Circle fame. What was the thought process of that song and what do you think today of the song's impact?
Sticky Green:
Well, first I want to say our mindset at the time was basically what I brought up earlier about the executives not "wanting to touch us with a ten foot pole" (their words not mine). You got to remember when I did that song I was still a teenager and I did not understand the mentality of why business men thought that way. All I saw it as was the songs were hot and people were feeling it, so what was the problem in not signing us to a better deal (as the deal with Alchemy was not the best of terms to speak nicely of it).
So, when Benny Blacc came out of jail and the underground scene was bubbling with street rap people looked to us to be the ones to help push it to the mainstream level as other acts in the city did such as Kardinal Offishall, Saukrates, and Choclair. So the way we saw it we would just come out gangbusters (pardon the pun) and do it for those we represented. I never saw it being a multi-year rap battle though. I eventually understood more of the business side of things and saw that those guys weren't the main problems of why the industry was not co-signing us although we were buzzing just as much as the other top acts if not more.
We eventually squashed the beef with all those artists as we understand that the top dogs all need to help progress this industry up here. However, it still doesn't take away the competitive spirit we brought to the rap game that others were afraid to do on that level. We were confident enough our talent would outweigh any possible backlash or blackball. The people like what they like, so as long as we had the streets buzzing our name would be alive.
Mikey Thomas:
Were there any artists outside of the Jane-Finch area that was inspirational to you?
Sticky Green:
First, Kwesro from Nefarious fame died in March 1999 due to unknown reasons after going to sleep. That was one guy who always pushed me to be more lyrical although he always loved my voice, passion, story telling and content. He always knew I was no holds barred with my content, but he felt that it would make people overlook my musicianship in terms of my delivery and different styles. In some ways he was correct. He died months before we did Street Rappers although he did see us on television for Norpo which was Rocstone's video where we did a guest cameo and the time I had a record deal with Alchemy Records which was big at the time for a guy just entering High School. I always told Kwesro he should have done a video to let Canada put a face to the lyrical monster (lol).
Mikey Thomas:
Well the industry ended up working with you guys eventually as you got signed to Chris Mckee's Talent Agency in 2006 that houses some of the top acts for hip hop not just in Canada, but across the border as well. Speak on that time frame.
Sticky Green:
I would like to thank Chris Mckee first and foremost for giving us the chance to tour and helping us get onto the soundtrack for How She Move. I remember clearly it was through this website (www.jane-finch.com) that he was able to get our contacts. It was a good time and different time as we were seeing industry love from some of the same people (executives and top artists) who we thought were turning us down from earlier in the decade because of our content. We realized they were just being business in terms of protecting their positive industry image and nothing personal as they were fans of our music too as we eventually found
out.
Mikey Thomas:
How do you feel about the current Canadian hip hop scene?
Sticky Green:
I love how some of our talent is finally getting recognized as some of the best in the world. Not only from an artist side with the likes of Drake, but also our producers who are doing work for some of the biggest names in the history of hip hop such as Boi-1da did for Eminem.
It's always good to cross borders to get more exposure, but it's also good to nurture the home scene to help make it bigger and better. A lot of our history is swept under the rug for whatever reason, but if we can embrace that our hip hop culture has in fact made an impact on hip hop in general we could walk around with a little more pride in our artists.
For instance how many people know that Jane-Finch rappers original rappers such as Michie Mee use to battle emcees from America and wipe them out? That is why I like what our street team has done with Smugglaztv on YouTube because it has videos that document our history. In this day and age of technology it is sometimes better to show than to tell our history because people tend to believe more when they see the history and the impact it had at that moment in time. Guys like Maestro Fresh Wes who made the dream of being a rapper possible for many of this generation and true Foundation rappers in Jane-Finch like Black I who use to roll with him gave a lot of people hope that if you love what you do big things can come out of it. You know the say "Never Give Up". Of course, the media would never show that side of us that inspires people to go out and live their dreams of being a rapper or entertainer or just anything you can put your mind to.
Right now, we have extended Smugglaztv on YouTube to include a Timeless Muzik channel which will document historic entertainers who paved the way for the music we are allowed to do today. I believe it will also inspire people to open up the creative envelope for their music when they see how diverse our music can be instead of just following what is current on BET. I believe that is what we need to do up here in Toronto for our music to stand out and make people look. Thinking outside the box and adding our multiculturalism with real musical artistry.
There are a lot of rappers in the city and the country for that matter that are raw talent just waiting to be found and I believe the increase of people rapping is stronger now with people seeing their own city having legitimate rap stars who made it. It has sparked a new generation. It's up to the talent to rise to the occasion and if anything at the end of the day you can say to yourself you gave it your 100 percent. You only live once.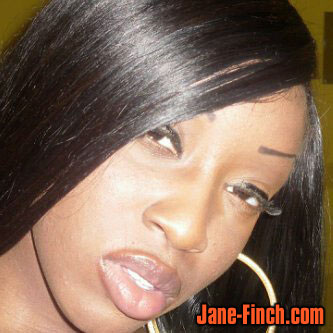 Mikey Thomas: Okay, so what is the future for Sticky Green and The Smugglaz?
Sticky Green:
That's the big question I know the streets is asking. I say for those who love and loved our music The Smugglaz brand will always live on. There is still music in the vault that has not been publically released, but that was the first chapter of the family business.
A new chapter is beginning right now under my Timeless Muzik Entertainment imprint. I plan to incorporate soul, r and b, reggae, rap, hip hop into the music I do to create timeless music that those before me laid down such as Michael Jackson, Marvin Gaye, Bob Marley, and so on. Do it with a modern twist and with the edge of what I became known for under The Smugglaz.
I'm working with my baby sister right now Shea Marie on my new album with new songs and I have to say the small feedback we are getting with the little snippet leaks has been encouraging. It is telling me that my game plan for making a new underground Foundation is going in the right direction. The first chapter of the family business laid the Foundation for street rap, but now I want to see more complex musical art in the songs we create coming out of Toronto. A more diverse type of underground where your heart and soul is being reflected in the songs where you get people emotionally stirred. One song that I know that has done this from my end in the last year has been the song "Smile" from Party Staat Mixtape. A shout out to Paul Nguyen of www.jane-finch.com
Mikey Thomas:
Let the people know of the upcoming projects and where they can get it from?
Sticky Green:
My album called "Foundation" is in the works to be released later this year. Under Timeless Muzik Entertainment I plan on re-releasing my mixtapes with new versions for those who never heard them before. The mixtapes are called "The Life of A Stickup Kid: The Smugglaz Stickup Kidd Era", "The Facts of Life Mixtape: The Genesis of Sticky Green Hosted By NBA Nuggets Official DJ Bedz", and "Party Staat Mixtape Hosted by Louie Rankin aka Teddy Bruckshot".
I'll be on some upcoming shows this year as well, so stay tuned. I'm pretty excited right now about this new era that has begun. When it is all said and done I believe one way or other the family business will be known for putting it down for the Jane-Finch community, the city of Toronto, and for Canada in the hip hop world through us. As for the soca and reggae scene my father and uncle pretty much left their mark for Toronto and Jane-Finch there as well. Thanks for your time and for jane-finch.com for having this exclusive.
You could check us out on of course www.jane-finch.com
www.youtube.com/smugglaztv
www.youtube.com/timelessmuzik
http://timeless-muzik-entertainment.blogspot.com
http://itunes.apple.com/us/artist/sticky-green/id334318322
Facebook: tha smugglaz, smugglaz news group, smugglaz, sticky green, shea marie
Mikey Thomas:
Any comment from you Shea Marie?
Shea Marie:
I just want to say finally my big bro actually took my word that I could sing and is putting me on as part 2 of the family business. I will do my best to live up to the legacy he started in the first chapter of the family business which I always wanted to be apart of, but as they say there is a time and place for everything and right now that time is Timeless Muzik Entertainment in 2011.
We would like to thank Sticky Green and Shea Marie for their time in conducting this interview.
- Jane-Finch.com staff