The Jane-Finch "Corridor"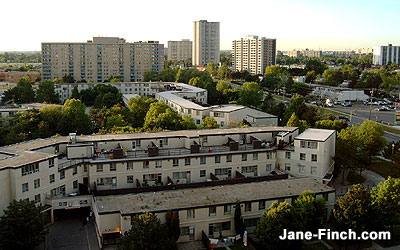 "In the 1970`s the government created an `instant community` located along the Northern Edge transect at Jane Street and Finch Avenue. The intention was to house low income families in their own community of of new, well constructed high rise apartment buildings, but the result was an area that was isolated from other residential areas. As development crept around Jane/Finch, clashes between income and racial groups became inevitable. This area became the closest thing in Ontario to the infamous "projects" of American cities."*
(Left: Jane-Finch housing complex near Eddystone. Photo taken June 2004 by Albi Aziz)
History
"A community consisting of extreme diversity both in culture and economic need, Jane-Finch was originally developed as a model suburb in the 1960s in response to the rapid urban growth of Toronto. The community was planned to accommodate a higher need population with its low income and public housing, but no thought was given to the social infra-structure needed to sustain community life.

In 1973, a group of dedicated community workers, politicians and residents started identifying ways to address community problems. They concentrated their efforts on improving their neighbourhood`s negative image and creating a sense of community pride. Since then, the neighbourhood has developed 30 grassroots associations, including social and health service organizations, based on principles of mutual aid. Among their success are the Jane-Finch Community and Family Centre, a legal clinic, community health centre, women`s shelter and co-op housing developments."*
Today
"Today, Jane-Finch is characterized by a predominance of high-density, high-rise apartments, alienating construction and a flat and treeless landscape. Soon after it was established, Jane-Finch was already being portrayed as a hub for crime, drug dealing and social problems. Its residents, hailing from 80 ethno-cultural groups and speaking 112 different languages, had few resources to address the many, difficult challenges facing the community. The area has a high percentage of teen mothers, working poor and a disproportionately high number of families with children under 16, including many single parent families. Its hospitalization rates for trauma are the highest in Toronto.

Jane-Finch residents managed to create the infra-structure their community needed to become healthy and sustainable. They succeeded in bringing together various sectors to address a wide range of economic, social and recreational needs. For example, the community partnered with the Royal Bank to design an action plan on poverty entitled the Community Banking Project. The program supports a part-time community worker who provides training to community members on money management and financial planning. The Neighbour to Neighbour project builds bridges across diverse constituencies in the community by bringing people together to talk about their distinct experiences and their common challenges. Parents have formed the Westview/ Brookview Parents Council to keep their children in school and to work with the Board of Education to raise student achievement levels.

But, perhaps, one of the most significant accomplishments of this community is the tenacity of the residents to transcend adverse circumstances and to create a community that continues time and time again to inspire hope in its members. This summer, community groups raised funds to buy an ad on the TTC that reads: "Jane-Finch our home, we love it!"*

*Sources:
Jane/Finch Corridor (from Toronto's Urban Region: Part 3: Community Building in Toronto)
Where Jamaicans Live by Mahogany Saunders

"According to the 2001 Canadian Census, 3.5% of the population of the city of Toronto is Jamaican-born. 3.2% of the population of the Greater Toronto area was born in Jamaica. While Jamaicans live throughout the Greater Toronto area, you will find the largest concentration of Jamaican families in the city of Toronto."
Jane and Finch (From Wikipedia, the free encyclopedia)
http://en.wikipedia.org/wiki/Jane_and_Finch