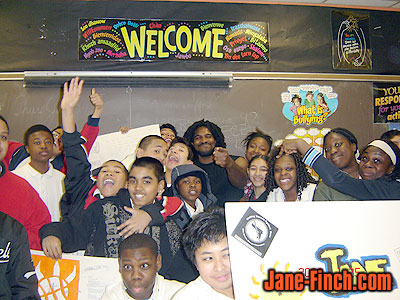 January 25, 2008
Mark Simms visited Ms. Antonietta DeSantis' class at St. Francis DeSales Catholic school to give a presentation to the students. Mark talked about the themes of courage and persistence to encourage the students to aim high and follow their dreams. The class worked on murals to show their thoughts about living and going to school in the Jane-Finch area.
The students in Ms. Antonietta DeSantis' class have taken the last 5 months working on the different studies with Jane and Finch. Such examples include:
A lack of local employment opportunities.

Insufficient attention paid safety

Crime and perceived lack of safety/security;

The need for better racial and socio-economic representation in the development of programming;

The concentration of low income housing in a small area;

Continued reporting by the media of negative images coming from the area, which further enhances the negative reputation.
About Ms. Antonietta DeSantis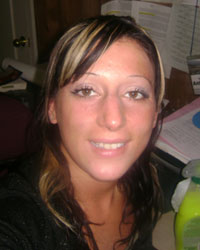 Antonietta DeSantis (Teacher) grew up in the Jane and Finch/Jane and Wilson area all her life. She has grown to see the many changes within the social conditions in the area. Ms. DeSantis has seen friends lose there lives, and fall into substance abuse. Although true, Ms. DeSantis has lived and tasted the real essence of this community. She sees and advocates for the goodness that Jane and Finch provides. She comes from an Educational background of early childhood education, and a Masters of Teaching from OISE/UFT. Her masters degree consisted of the study of behavioral issues within communities, family, children and schools. She published her Thesis in 2006 "Primary and Junior Teachers Attitudes Towards Student Discipline Problem: Effective Behavior Management Techniques in Inner City Working Class Schools in Jane and Finch". Ms. DeSantis has taught in many diverse classroom settings, mostly in difficult schools where she has worked with the inner passion that "students come from many different situations; poverty, abuse, isolation, and substance abuse-they have the right to learn, yet we as teachers should encourage them to stop the negative cycle and follow our dreams no matter what life throws at us".

She was selected to teach at St. Francis DeSales to work with this particular grade 8 class. From day one Ms. DeSantis educated the students to move away from the negative attitudes that society brings within there community, and work towards the positive scene and make a difference within themselves, family and school environments. These students have worked with the food bank, Nursing homes, special education schools, and fundraisers for the families who lost there loved ones from gang related.
The students in this class, created murals that emphasized having the right to fulfill there dreams with poetry, music, and art...the love for Jane and Finch. The students state that although these are the issues they face here in the area, they love it, and they will move higher with a good education, good job, and the right to make good decisions, with out violence.