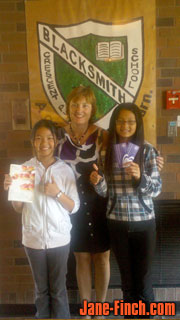 The Don Mills Rotary Club held another great Dictionary Project again this year by providing free Miriam Webster dictionaries to under-privileged Grade 5 students in Toronto.
In May 2010, the club visited Daystrom Public School located near Weston Ave. and Finch Ave. and held a "Word-of-the-Day" contest.
In June 2010,
the club visited Blacksmith Public School near Steeles Ave. and Keele St. and held a poetry contest.

The first picture shows Rotarian Vicki with two students from Blacksmith showing off the prizes for their winning poems.

The second picture shows the three winning students with loving Principal Tabacoff in the middle and three very dedicated Rotarians.

Thank you to Principal Tabacoff at Daystrom Public School for her coordination and help, Andrew Wood at Blacksmith Public School for his dedication and initiative, Dale Scheerer at Rotary Cares for acquiring the dictionaries, and Joan Hayward for spear-heading the whole initiative.