In September 2007, the Art Gallery of York University organized Black Creek United, a two-month interdisciplinary art workshop that took place at "The Spot", a youth drop-in centre located in Yorkgate Mall. Taught by community artists Liz Forsberg and Laura Reinsborough the workshop culminated in exhibitions of photographs at "the Spot" and the AGYU, as well as a youth-led community art walk along the Black Creek on November 3, 2007. This art-based walk provided an occasion to celebrate the creek and share the ecological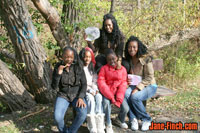 knowledge that youth had acquired over the course of the workshop about this unique habitat. Friends, family and the general public were invited to walk and discover featured stops along the creek route which included an exhibition of photographs by participants installed on sumach trees, as well as an installation of papier maché sculptures of red winged black birds, kingfishers, and passenger pigeons all of which are current or former inhabitants of the Black Creek. Youth invited participants to create a series of outdoor art installations using found objects such as leaves, branches, and sumach berries, and also engaged people in outdoor experiential activities such as sound-mapping interventions using sidewalk chalk.

THE EXHIBITION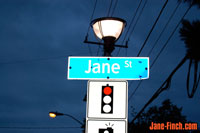 Inspired by the principles of psychogeography, Forsberg and Reinsborough invited workshop participants to take exploratory walks through the community and along the creek as a means of developing their visual and auditory awareness. These walks also provided an occasion to recount some recent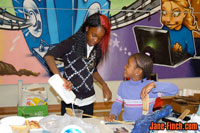 stories such as the flooding of Finch Avenue and older histories including the area's agricultural past and aboriginal heritage. Observing and listening to the overlooked sights/sites and sounds of their neighbourhood, participants performed a perceptual inventory, documenting their visual and textual responses. A number of photographs were taken by youth during our exploratory walks through the Jane and Finch neighbourhood while others document the various stages of the workshop.

COMMUNITY IMPACT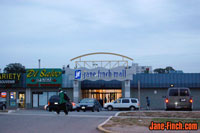 Through workshop activities and the production of new works, participants came to recognize the public role that contemporary art can play and the ways in which it can serve as a catalyst for community dialogue, collaboration, and pride. With time, the artworks produced increasingly reflected participants' growing connection to the creek and its habitat as well as an increasing sense of environmental awareness and responsibility.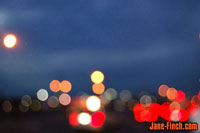 The Art Gallery of York University's experience delivering arts education programs to youth in the Jane and Finch community, has demonstrated how contemporary art can serve as a much-needed platform for creative self-expression and validation that contributes to youth empowerment. With programs like Looking at the Overlooked: An Exhibition of New Works by Students from C.W. Jefferys Collegiate Institute and Monsignor Johnson Catholic High School; Cover to Cover: An Artist Book Project by Youth From the Jane and Finch Community; and Black Creek United: An Arts Based Walk Along the Black Creek, we have witnessed first-hand the benefits of engaging youth in arts education initiatives.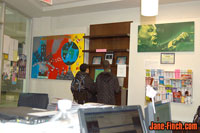 The Art Gallery of York University would like to thank Liz Forsberg, Laura Reinsborough, the staff at "The Spot" and the Jane/Finch Community and Family Centre, Ewa Piatkowski, Library Service Manager, York Woods Library, Denise Piper, Branch Head, York Woods Library, Darryl Bank, Kateryna Topol, and all of the artists who participated in this project. The AGYU is also grateful to Northern Artists for supporting this arts education initiative.

The Art Gallery of York University is a university-affiliated public non-profit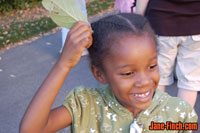 contemporary art gallery supported by York University, the Canada Council for the Arts, the Ontario Arts Council, the City of Toronto through the Toronto Arts Council, and through our membership.

For further information about Black Creek United or for information about the AGYU's educational programming in the Jane and Finch community, please contact Allyson Adley, Education Assistant at 416.736.2100 ext. 88608/ aadley@yorku.ca.
POETRY INSPIRED BY THE BLACK CREEK

Nature/Father/Hour
By Anthony Harvey

I seek a picture of freshness
I hear birds chirping at the Black Creek front entrance
what an hour of nature it's been
said my father
is this a dream?

I seek nature
beneath my true love is
the colour of the leaf
that fell from above

Untitled
By Brian Durson

I saw a frog with a calming voice
broken trees with a loud noise
flowers, sumach trees,
where farms used to be
I see, I smell,
I hear nature's breeze
water and world slide together in the wild
as calming as a newborn child.