New Subway - Bad Planning
By Errol Young
(December 13, 2017)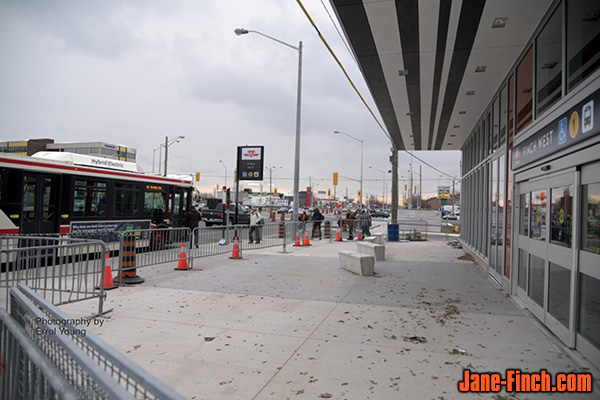 This week the new subway extension opened and there is nary a complaint because we have been waiting over 20 years for this.

But the Keele Finch intersection is a planning disaster.
Many millions of dollars over five years were spent on this roadway but it misses the mark in many human ways. They built a suburban nightmare made to move cars, not people.
If you are driving - great. If you are walking - too bad.
Pedestrians will be faced by wind-swept expanse of concrete and asphalt.

Look for a tree or a park bench and you will be disappointed.
A neighbourhood should be defined by the quality of its walkability. It should invite you to stroll by shaded by the trees and cooled by the grass, smiling at the playing children and the seniors chatting.
This will not happen at Keele and Finch. Asphalt will radiate the sun under our feet on both sides of the curb.
Here the benches at the station entrance are cast from concrete making sure you don't sit too long. Children will have to navigate all the lanes of traffic to get to the three elementary schools to the South.
Bike infrastructure. None. Planners know that bicycles will be an important part of transportation in the future. Even if they put some in, in just those newly built two kilometre of road and it ended there, it could be linked up in the future with a city wide system. Cyclist will just have to dance and die with the cars.
And when you do find planted trees, half a kilometre to the south, they line the road like uniformed security guards, guarding the roadway. Each identical in species and age like a Lego forest. Couldn't they have tried to create an urban forest with different varieties and grouping and species? No. this is the suburbs and the car rules. It is a monument to the cars and trucks that it was built for.
Would they have planned like this in Bloor St. West, Rosedale or the Annex?
Looks like we are stuck with this auto-centred suburban desert for the next 75 years.
Enjoy your drive through our neighbourhood.