Ebony Black Family Reunion Tour Concert
By Tiffany A. Ford
September 19, 2006

Ebony Magazine, the classic African-American publication since 1945 has brought much entertainment, stories and style through its pages to us "Afro-Canadians". We can indulge in pictures of the "perfect black families" and the glamour of African American celebrities, which provokes us to cringe in covetousness, due to Canada's lack of a clear black Canadian identity or a unified black community. Attending the Ebony Black Family Reunion Concert in Atlanta, Georgia, I've witnessed family love, fun, live old skool performances by rap pioneers and a unique environment that reinforces love, peace and soul.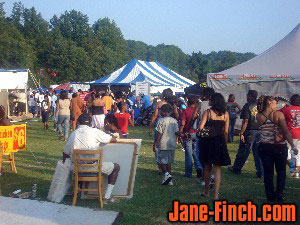 August 26th, 2006- Los Angeles born singer sensation Cherrelle, who was announced as the "Beyonce of the 80s", was the first performer to grace the stage at the Ebony Family Reunion Concert, held at the Cascade Field. Cherrelle is cousin to the former R&B singer Pebbles ex-Ried, and has worked with legendary producers Jimmy Jam and Terry Lewis. I recognized her hit " I Didn't Mean to Turn You On", others remember her for "Saturday Love". Cherrelle's vocals still hits every note beautifully. Next up to the stage was no other than heavy weight, but lyte as a rock, MC Lyte. Alright, so although I must always remain professional as a publicist when it comes to meeting celebrities, I definitely could not contain myself when I actually met her face to face. Not only is she an amazing performer on stage, but her personality definitely matches her (better in person) gorgeous aesthetics. While I was waiting for my chance to speak with MC Lyte, I met two of rap's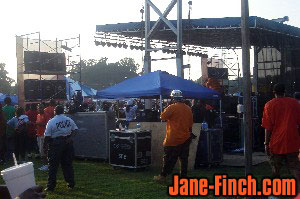 influential people of the 80s; Dj Sparky D and MC Shan. Ms Sparky D was actually one of the first female rappers from New York. MC Shan was a former "Juice Crew" member and notably remembered for his diss to KRS-One during the "Bridges" feud in New York. At first, while speaking with MC Shan, I didn't realize his Toronto connection. Then he began to sing "Informer" by Snow. Of course, we all know who he is now right? Slightly older, but still has his boyish cute looks. MC Shan is still recognizable for his rap lyrics on one of Canada's successful imports in a rare genre. Interestingly, while speaking with Shan and Sparky D, a sexier version of Suge Knight was making his way towards us. I learned later, that it was no other than Mr. Sexy lead singer of "Freaks Come out at Night";Whodini.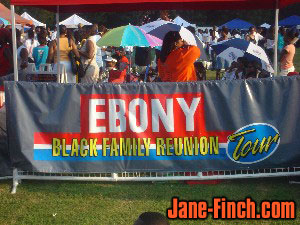 This free concert was now feeling more like an episode of "Surreal Life", with enough old skool celebrity power to make any Canadian feel nausea. There is a huge difference between meeting hip hop chart smashers of today, like Eric of the Ying Yang Twins or Young Joc, from the hip hop pioneers. Anxiety and excitement is at the tenth level, especially for those who grew up listening to these artists. Knowing this, you can imagine my face and reaction to the next three performers; Big Daddy Kane, Doug E. Fresh and Slick Rick.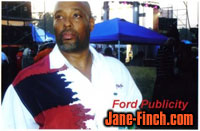 Now keep in mind that I did express that this concert was entirely FREE! Imagine a concert like this held in Toronto, somewhere on an open field of grass. The star power is created by hip hop icons, with the theme to bring "black" people and their families together (failing to mention, lots of BBQ!). How would our provincial and municipal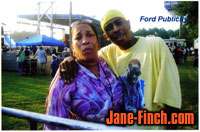 governments react? What safety measures would they place, and how would the media portray this event? Evidently, we just have to look towards the heavy police presence, surveillance cameras and negative media at our beloved Caribana (now taken over by our government), to understand the difference between our "multicultural" society and America's "melting pot". The realities speak for themselves. FYI, I saw barely saw any police presence or security at the V.I.P section at the concert. Hence, the reason why I took advantage of the situation.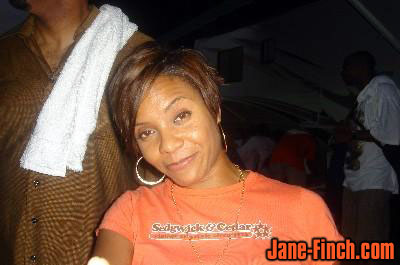 The Ebony Magazine family affair was a successful event in bringing a community together without cursing, violence or heavy police presence. Hopefully one day we can have an event like this in Toronto, where our "Afro" communities can be unified and respectful of one another, through the hypnotism of music and the aroma of BBQ Chicken.